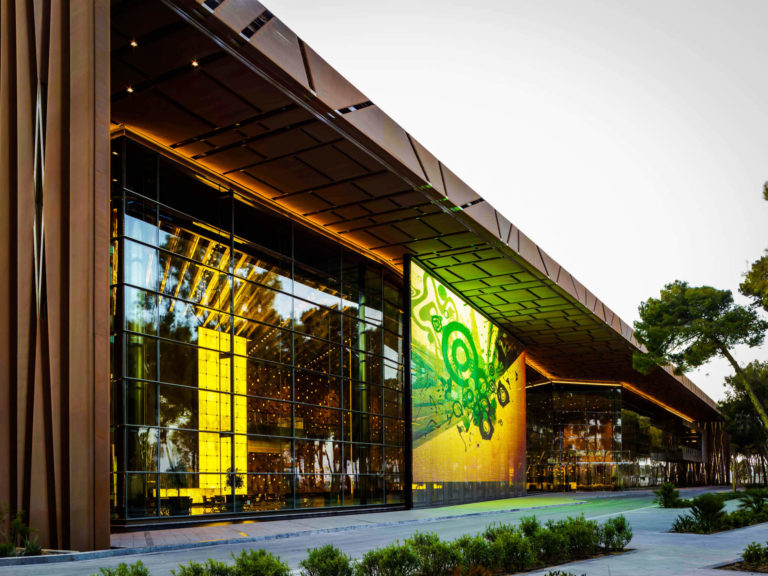 Office Building, Facade Construction
Tripoli International Convention Center
The Convention Center is located in a large park with old pines and eucalyptus tress and only 35 km from the airport. The elongated cuboid is integrated into the natural surroundings and features an impressive holistic look. And yet particularly the horizontal design of the facade highlights the building's shape.
Thanks to the flexible production technique of the AT 500 CS, combined with various mullion and transom profiles and integrating doors and windows, various opening styles could be used in the facade without losing the elegant all-glass look. Another requirement was the local thermal circumstances: At an average temperature of over 20 degrees from April to November it was important to achieve the best possible insulation. This was met by the ultra modern insulation concept of the AT 500 CS. The insulation is supported by a semi-transparent curtain mesh which keeps out the sun. Here the architects chose enough distance between mesh and glass facade to also create a colonnade which also adds to the building's overall cooling load.
In addition, the large roof projection which continues to the ground at the corners of the building due to the curtain structures. This gives the impression of a circumferential outer shell. 8,500 sq m of stainless steel mesh – based on the colors of the desert sand – were painted in a bronze shade and stretched across 500 diamond and trapeze shaped panels. Since the panels vary in size, the irregular pattern this creates is reminiscent of tree bark and gives the building a mystic character.