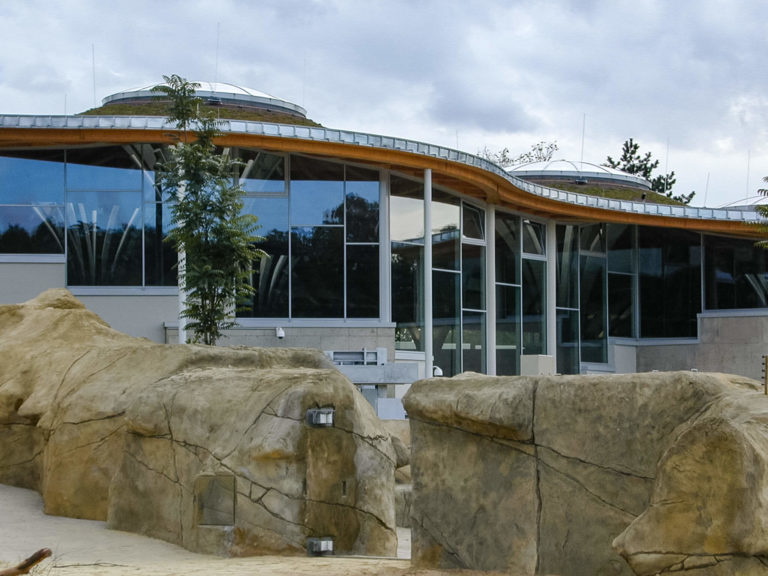 Special Facade Construction
Elephant House Cologne Zoological Garden, Cologne
All metal constructions are special detail constructions: The elephant house has a polygonal layout, generally with varying levels in the facade base and the glass roof. The glass panes are oversized – for the elephant. To safely hold the weight of the glass panes and for the building to support the weight of the glass, the AT 500 F series glass support by AKOTHERM was specially reinforced.

Other special construction features are the wooden roof over the indoor enclosure consisting of seven umbrella coverings made from glulam timber with a diameter of 20-25 metres on twelve metre high tree-like reinforced concrete precast columns and the curtain wall of curved and vaulted precast concrete elements, the shape and surface of which are reminiscent of an elephant. The roof is a self-supporting wooden construction, and the junction to the glass facade has a special expansion joint to absorb the increased deflection. The glass roof combines different building materials.
For the main and side doors, different curved elements were coupled, a particular challenge for the structural attachment to ensure the functionality and the required security technology (panic functions).



Elephant House at the Cologne Zoological Garden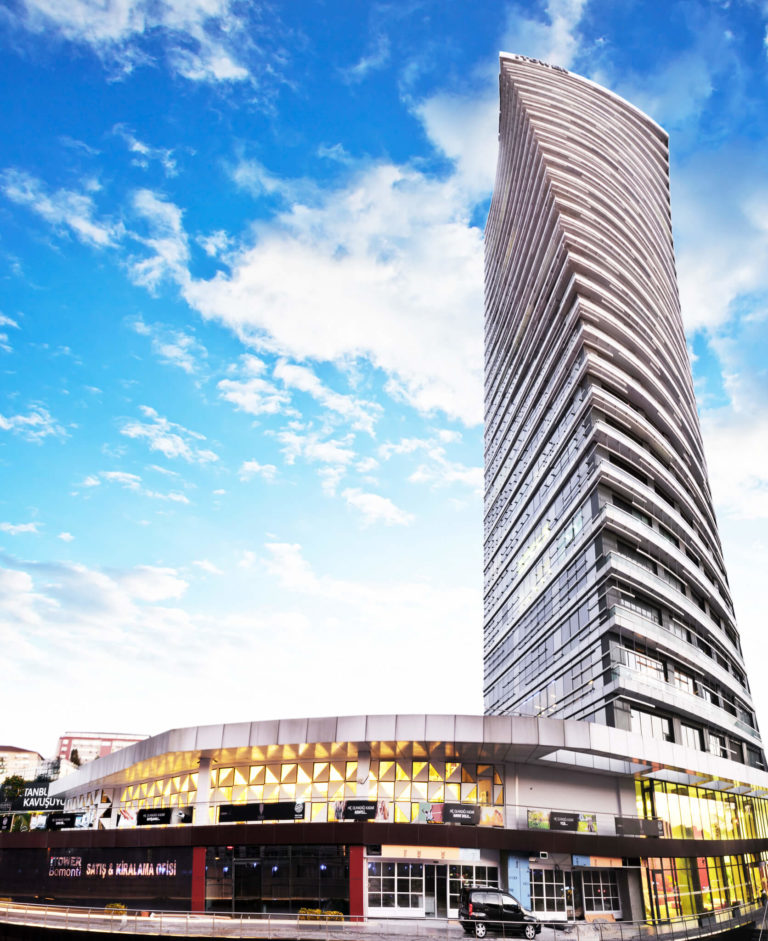 Facade construction, about 10,560 sq m
AT 500 F, AT 500 CS, AT 730 HI-S
Residential and office complex, i-Tower, Bomonti - Turkey
The new i-Tower – a class A office project in the middle of Istanbul.

The building measuring 110 metres high with 36 floors was built on a total area of 41,000 sq m. 23,000 sq m of which is office rentals. Certainly unusual in a functional building are the green balconies and patios all around. The about 30 million Euro construction project included the Akotherm facade systems AT 500 F and AT 500 CS. They shape the look of the facade characteristically, alternating between classic mullion-transom facade with visible cover widths of 50 mm (AT500F) and an all-glass facade with a minimal silicone joint (AT 500CS). The project further has 200 top-hung outward projecting windows. The curved facade made the transitions and corners particularly challenging. The entire facade is about 10,560 sq m. The balconies all around the building can be accessed through the French doors from the AT 730 HI-S series set into the facade. This allowed meeting the highest standards with respect to doors and windows.